Whole House entertainment and control is a great investment to increase the value of your home and to create a more relaxed and enjoyable lifestyle for you and your family. The range of possibilities are endless - including a custom home theater system, Multi-Room Audio / Video distribution system, lighting control, automated heating & cooling, security and much more! The key to creating the lifestyle you want is selecting the right company for your job. We specialize in IP Audio, Video & Control solutions. Think about coming home and pressing just one button to activate multiple commands simultaneously - the lights turn on, the air conditioning kicks up a notch, and your favorite music begins to play in your favorite room(s) of your home. Use the same system to page the kids for dinner, view network camera feeds on a touch screen in any or all the rooms in your home, Dave's Will design the perfect environment for you and your family Today Call Now for help managing your media the way it should be done.



Music is a large part of many of our lives. Electronic Home designs and installs systems that allow one to enjoy music from any room in the house. There are two basic types of whole house systems; multiroom and multiroom/multisource systems. Multiroom systems allow the same music source to be monitored throughout the home at the same time. Multiroom/multisource systems allow the home to be divided into separate listening zones. Each zone can listen to any source independent of the other zones. Listen to music from the CD, satellite, FM tuner or cassette deck in any or all zones at the same time.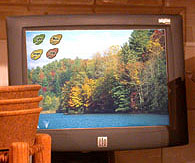 Both types of systems feature quality built-in speakers discretely placed in the room and either a wall mounted volume control that allows you to tailor the sound level to your taste or a wall mounted keypad control unit. Placement of the speakers for proper acoustics and aesthetics is a critical decision, however, the furniture and the people in the room must also be considered. We offer a variety of quality flush mount speakers that can be ceiling mounted to allow you flexibility in furniture placement, yet maintain the high quality sound you desire. Each speaker uses the same wiring and will work with any whole house system. Choose the speakers based on the sound quality you desire for each particular room.
Most amplifiers are rated to handle only one or two pairs of speakers. Connecting multiple speakers together for any multiroom audio system requires using either use multiple channels of amplification or some form of impedance protection to keep the amplifier from burning up. There are two basic alternatives to protect an amplifier connected to multiple speakers. One is to use large automatically adjusting transformers (autoformers) that change the power draw of the secondary windings (where the speakers are connected) while maintaining a constant load on the primaries (where the amplifier is connected). The other alternative is to use resistive devices such as speaker selectors. Autoformers offer complete isolation from room to room and are very efficient, but can limit bass response. Speaker selectors waste anywhere from 20 - 50% of the amplifier's power and, in most cases, allow interaction between rooms (you turn the volume up in one room, all of the others decrease, etc.). Electronic Home does not recommend or use speaker selectors due to this interaction and power waste.
There are many whole house audio systems available at a variety of prices. All of the systems use speaker wire and speakers. Basic systems have a volume control located in each room. To power the system on/off, or to control or change the source requires going to the main system. The next level of sophistication involves strategically locating keypads or infrared repeaters around the house. These allow basic system control without going to the equipment. Fancier systems allow independent turn on/off, preset volumes, tone controls and group commands (all on/off, etc.). The ultimate in convenience and flexibility divides your home into "zones" with each able to choose their own source! Which features do you need? Only you can decide! Think about your lifestyle and how it may be affected with each type of feature. To help you in your decision, the following paragraphs outline a "typical" scenario.
Most single source and even some multisource systems use autoformer volume controls in each room. These are mechanical controls that allow you to adjust the volume in each room, limited to the maximum volume as set by the common zone preamp. To turn the speakers completely off in a room requires the volume control to be turned completely counter clockwise. If a room's volume control is left at a loud setting and the zone is turned off, it remains at that same setting when the zone is turned back on. Situations can arise where this can create disturbances to other family members or guests. For example, you were entertaining the night before and had the entire home playing background music and simply shut the system off when you went to bed. You get up the next morning and want to listen to the traffic report in the master bath and simply turn the zone on from the bathroom's keypad. This traffic report is now being sent to the rest of the house, including the master bedroom, at the same level as the night before (which now seems much louder without all of the guests), waking up other family members. To avoid this you would have had to have gone to each volume control and turn them off before turning the zone back on! Is this acceptable? If not, consider a more sophisticated system.
Sophisticated systems offer more convenience. Providing separate channels of amplification and an intelligent controller for each zone will allow the maximum in flexibility, simplify the entire system and eliminate potential impedance mismatching problems. We offer systems that will allow any single room to be turned on without having to worry about the last setting of the other room's volume controls. If desired, groups of rooms (or the entire house, depending on your desires) can also be turned on/off from that same, simple to use keypad. We offer systems from AMX, ADA and Audio Access that can easily handle this, routing any centralized source to any room independently or simultaneously. For more critical listening rooms, utilizing the Meridian multiroom feature with local sources is an ideal, high quality solution. An AMX or ADA system would still control the Meridian, but the signals would bypass their preamp, sending direct digital signals to the speakers for superior sound.



Cities In ORANGE COUNTY We Install Multiroom Systems in.
Aliso Viejo, Anaheim , Atwood, Brea, Buena Park, Capistrano Beach, Corona Del Mar, Costa Mesa Cypress Dana Point East Irvine El Toro Foothill Ranch 92610, Fountain Valley Fullerton Garden Grove , Huntington Beach Irvine La Habra , La Palma Ladera Ranch Laguna Beach Laguna Hills Laguna Niguel Laguna Woods Lake Forest Los Alamitos , Midway City Mission Viejo Newport Beach Newport Coast Orange Placentia Rancho Santa Margarita San Clemente San Juan Capistrano Santa Ana Seal Beach Silverado Stanton Sunset Beach Surfside Trabuco Canyon Tustin Villa Park Westminster Yorba Linda

Seal Beach, Diamond Bar, Sunset Beach

, Riverside, Corona, Alta Loma, Rancho Cucamonga, Upland, Claremont, Ontario, Chino, Chino Hills, Paris, Murrieta, Beverly Hills, Brentwood, Santa Monica, Cypress, Rolling Hills, Long Beach, San Fernando Valley, Burbank, Hollywood, Palos Verdes, Ventura, West Hills, Marina Del Ray, Malibu, North Ridge, Del Mar, Vista, South Bay, Santa Monica, San Fernando Valley, West Hills, Woodland Hills, Box Canyon, Manhattan Beach, Rolling Hights, Simi Valley, SFV OC LA IE SD